Genovation
Computer Keypads
Are you ready to take control? We offer our customers products that will increase their productivity while reducing stress. Why use tools that do not satisfy your needs when one of our high quality keypad products will make your life so much easier? These keypads can result in huge benefits to those who take their work seriously and need more than the typical built-in ten key or programmable keyboard. We offer you a great selection of programmble keypads, relegendable keypads, and wireless keypad solutions.

We also offer complete customization, including printing directly on the keytops, keyfronts or keycaps, as well as Custom Templates and Label sets.
Increase Productivity, Reduce Stress!


---
6 Key Programmable Keypad
Our 6 Key Programmable Keypad (BumpBar) is a versatile, cost-effective, programmable option for those needing a programmable keypad that is both durable and customizable. These Programmable Keypads are great for repetitive keystrokes and text, and can be setup for saving all your hot-keys and shortcuts. Using these keypads can greatly increase your speed and productivity while reducing typos and stress.

Work smarter, not harder!



Product Features:

6 Fully Programmable Keys
2 key N-key rollover
Programmable LED (Blue)
2-level programmable, equivalent to 12 keys
Approximately 100 bytes per key per level of programmability
"Flash" memory holds key data and settings
Supports USB Multimedia keys
Supports F1 through F24
Low power consumption
Software Driver Disk included

Product Specifications:

Color: Dark Gray
CHERRY Mechanical Keyswitches
Dimensions 6.1 X 3.75 X 1.5 inches
Cord length: 6 feet
One year Manufacturers warranty

System Requirements:

Supports USB Multimedia keys
Compatible with Windows 95 and Newer
Compatible with Mac
Compatible with Linux
Once programmed, operates on Any PC with USB
USB: 1.0, 1.1, and 2.0
This 6-key programmable keypad includes non-volatile built-in ROM that allows the keypad to connect to most compatible PCs without installing resident software. The keypad is easy to program using the Windows compatible software provided.
This keypad can be ordered fully customized in small quantities. We can print application specific custom commands and symbols directly on the keytops, keyfronts, keycaps or keys. This keypad can also be special ordered with a wall mountable option at additional cost.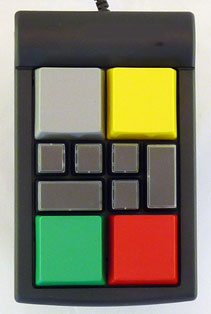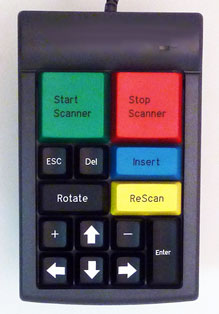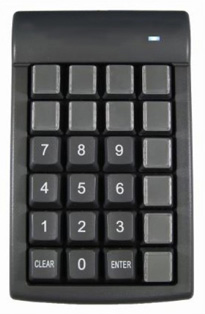 Users avoid losing time searching manuals, pull down menus, help screens or using "trial and error" methods for finding commands. Even experienced users will make fewer data entry errors and increase their productivity.
We can provide you with everything from individual keys to fully customized keypads ready to use. If you would like assistance or suggestions in designing your custom imprinted keys, keycaps, and specialized keysets please call our Design Team direct at 800-639-0710 or 928-639-0161 to learn how Fentek can cost-effectively improve the interface between the computer and it's user.
| | | |
| --- | --- | --- |
| Keypad Description | Part Number | Special |
| 6 Key Programmable Keypad - USB | KPP6U | $133.00 |
| Semi form-fitted silicone protector | KBS954G00 | $14.50 |
Click for Shipping/Handling charges.
Every effort is made to ship Same Day order is received by 3:00 pm MST.
To place an order please call us at 928-639-0161,
or complete the Secure "Order Form" by clicking the Order Form button below.
For more product information please email Info@Fentek-Ind.com or
complete "InfoRequest" by clicking the Info Request button below.
---
Follow Fentek Industries
---
1042 N. Main Street, Cottonwood, Arizona, 86326 USA
Located in Historical Old Town Cottonwood
Showroom Open by Appointment Only, Monday thru Thursday 9 - 4
© 2023 Fentek Industries, Inc.Quality Computer Input Solutions!
---