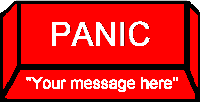 JUST CAN'T RESIST CLICKING ON THE PANIC BUTTON
That's how effective the Panic Button or other Novelty Computer Keycaps are. Think about it... People see a simple button titled PANIC and automatically push it! Everybody loves these things!
Custom Novelty Buttons with your name and number can be on your customer's desk, right in front of them every day! They make great trade show traffic builders and work as wonderful attention getting gifts. Some companies even have working panic keys installed on their keyboards to alert the help desk and tech support people to the user's plight!
They're available in three sizes, 1X, 1.5X, and 2X (1X=a function size key, 2X=a key approximately twice as wide). Available in a variety of standard colors, but custom colors are available by special order at an additional charge. Options include an adhesive bottom, ready to mount on your computer keyboard, telephone, auto dashboard or on most any surface... and individual packaging if needed.
PANIC, company logo, or other characters of your choice can be printed on the top or front side of the keys in quantities ranging from 100 to 50,000 or more.
Please email your design request to Sales@FENTEK-IND.COM or call us today at 928-639-0161 for custom printed keys or any other promotional printing requirement.
Just want a few "PANIC" keys? Order below.
| | | |
| --- | --- | --- |
| Description | Part Number | Price |
| Set of five 1X size Panic Keys with double stick tape | PANIC | $8.75 |
Click for Shipping/Handling charges.
Every effort is made to ship Same Day order is received by 3:00 pm MST.
To place an order please call us at 928-639-0161,
or complete the Secure "Order Form" by clicking the Order Form button below.
For more product information please email Info@Fentek-Ind.com or
complete "InfoRequest" by clicking the Info Request button below.
---
Follow Fentek Industries
---
1042 N. Main Street, Cottonwood, Arizona, 86326 USA
Located in Historical Old Town Cottonwood
Showroom Open by Appointment Only, Monday thru Friday 9 - 4
© 2021 Fentek Industries, Inc.Quality Computer Input Solutions!
---