Emotion
Ergonomic
Trackbar Mouse
The New Emotion Trackbar is an Advanced Ergonomic Mouse. The Emotion is designed to provide superb ergonomic benefits such as a much wider roller allowing precise cursor motion with less effort, Highly sensitive large buttons, Comfortable surfaces that are smooth and soft, Programmable buttons, and Dual 1000 dpi sensors for unbeatable performance.
Another feature of the Emotion Trackbar is "Switchability". Our trackbar is the only ergonomic mouse available today that enables the users to rotate the device 180 degrees with the flick of a switch so they cay have the bar close to their body rather than the keyboard or vice-versa.
The functions of the Mouse buttons are all programmable and can be adapted to your own needs and requirements. Programming software can be downloaded Here! (rar file)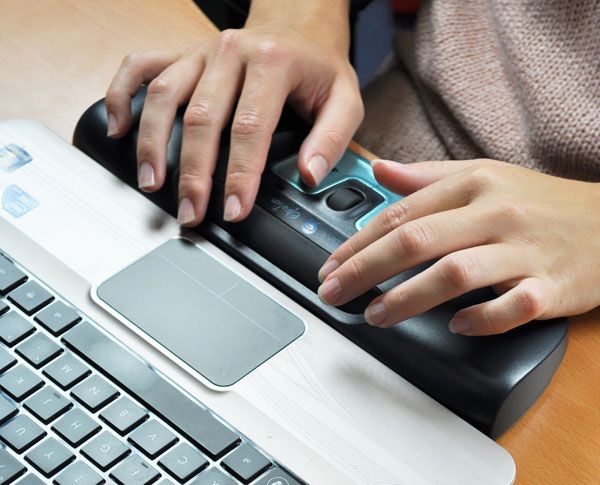 Features:
Ideal for both left and right-handed users
6 Buttons, including a click function on the roller and a clickable scroll wheel
All Buttons except the roller are programmable
A Wide roll bar allowing precise cursor motion with considerably less effort
Highly sensitive, Large buttons
2 X 1000 dpi dual optical sensors
Built-in microphone
Suitable for both PC and Mac
Plug and Play
Compatible with Windows 95, 98, ME, XP and Vista
Compatible with Mac OS 9, 10.2, Leopard and later
USB connection
Approvals: CE, FCC, WHQL, WEEE
Dimensions 11.02 inches X 4.13 inches X 1.26 inches
Connection: USB
Color: Black with Bluish-Silver Buttons
USB and Microphone cables included
Manufacturers warranty
| | | |
| --- | --- | --- |
| Mouse Description | Part # | Special! |
| Emotion Trackbar Programmable Mouse - Black | MTBREMOUB | $89.99* |
*Free Shipping in Continental U.S. (excluding HI and AK)
Every effort is made to ship Same Day order is received by 3:00 pm MST.
To place an order please call us at 800-639-0710, 928-639-0161,
or complete the Secure "Order Form" by clicking the Order Form button below.
For more product information please email Info@Fentek-Ind.com or
complete "InfoRequest" by clicking the Info Request button below.
---
| | |
| --- | --- |
| © 2013 Fentek Industries, Inc. | Quality Computer Input Solutions! |
---